7 Items You Will Only Find in a Luxury Kitchen
When designing your own luxury kitchen, it is important to think about all of the elements that will enhance the look and feel of your cooking space. Bespoke luxury kitchens need features that offer both style as well as functionality. With this in mind, here are seven items to consider in order to create your own dream kitchen.
1. Marble Worktops
As the place where most of the food preparation takes place, the kitchen worktop is often the main feature of bespoke luxury kitchens. Marble provides a surface that is both strong and easy to clean. It also brings a look of beauty and style to your kitchen. In addition, you can combine marble with other materials such as glass and wood to create different designs and features.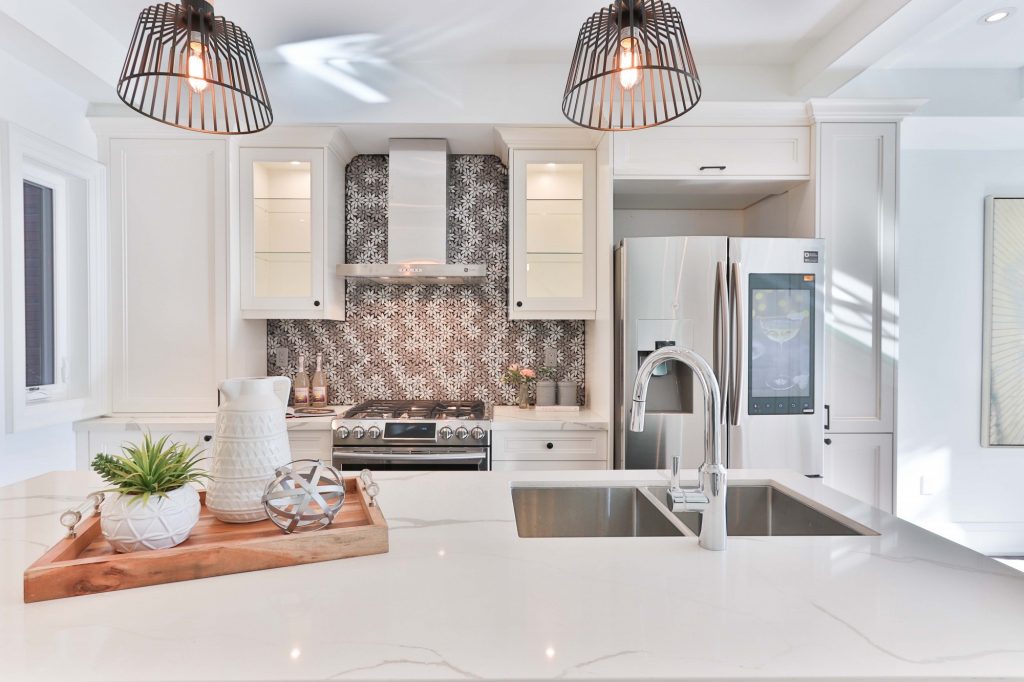 2. Integrated Appliances
Modern smart appliances include innovative features that make a range of kitchen tasks easier. At the same time, you can also integrate them directly into the kitchen design itself. You can build dishwashers and fridges into the cupboards, and you can even include warming drawers for keeping food warm. You can also easily integrate other features such as beverage stations, drinks fridges and more into your kitchen. This helps create a more sleek and minimalist luxury kitchen design.
3. Bespoke Cabinetry
A vital feature of bespoke luxury kitchens is having cabinets and storage areas that are both stylish and practical. Touch catch cabinet doors remove the need for bulky knobs or handles, while also giving them a sleek and stylish look. In addition, rollout shelves and racks can make finding items and utensils much easier. You could even create a bespoke drinks cabinet in your kitchen to house your barware; the height of luxury!
4. Ambient Lighting
It is crucial that you find the right balance of lighting for both mood and practicality. Your lighting should be bright enough for food preparation and other tasks, but also provide ambience when friends and family are around. Therefore, you should consider controlled lighting features for under, above and inside cabinets. You can also choose overhead lighting choices, as well dimmer switchers for ambience control.
5. Walk In Pantry
If you have the space, then a walk in pantry offers a practical space to keep food and kitchenware within easy reach of the kitchen. Walk in pantries can offer all of the storage options of a normal kitchen, with integrated drawers and such, but also feature open shelving for easy access to any items. Walk in pantries are the perfect spot to store gourmet foods and appliances that are only used for special occasions.
6. Stylish Décor
Another feature to consider when designing your luxury kitchen is the material used for your floors, walls and ceilings. You will want to make sure any materials you use match the style and colour scheme of your kitchen, while also offering practical benefits such as being hygienic, comfortable and resistant to heat or moisture. Wood or luxury vinyl flooring is an ideal choice for any kitchen, whilst a tiled or glass splashback will protect the walls behind your sink or hob.
7. Focal Points
The final feature to consider when designing a luxury kitchen is the central feature that will draw attention. An example would be a large kitchen island with a stone or marble worktop, as well as appliances and cabinets. Windows can also provide a scenic focal point too. In order to create a focal point, it is important to consider the overall design as well as lighting and the materials used.
Kayjay Interiors
At Kayjay Interiors, we create a range of bespoke luxury kitchens perfect for your home. We have over 35 years of experience and can design a kitchen that perfectly matches your own tastes and needs. For more details on our kitchen design services, contact us online or via phone today.